5 Ways Creativity Can Positively Benefit Aging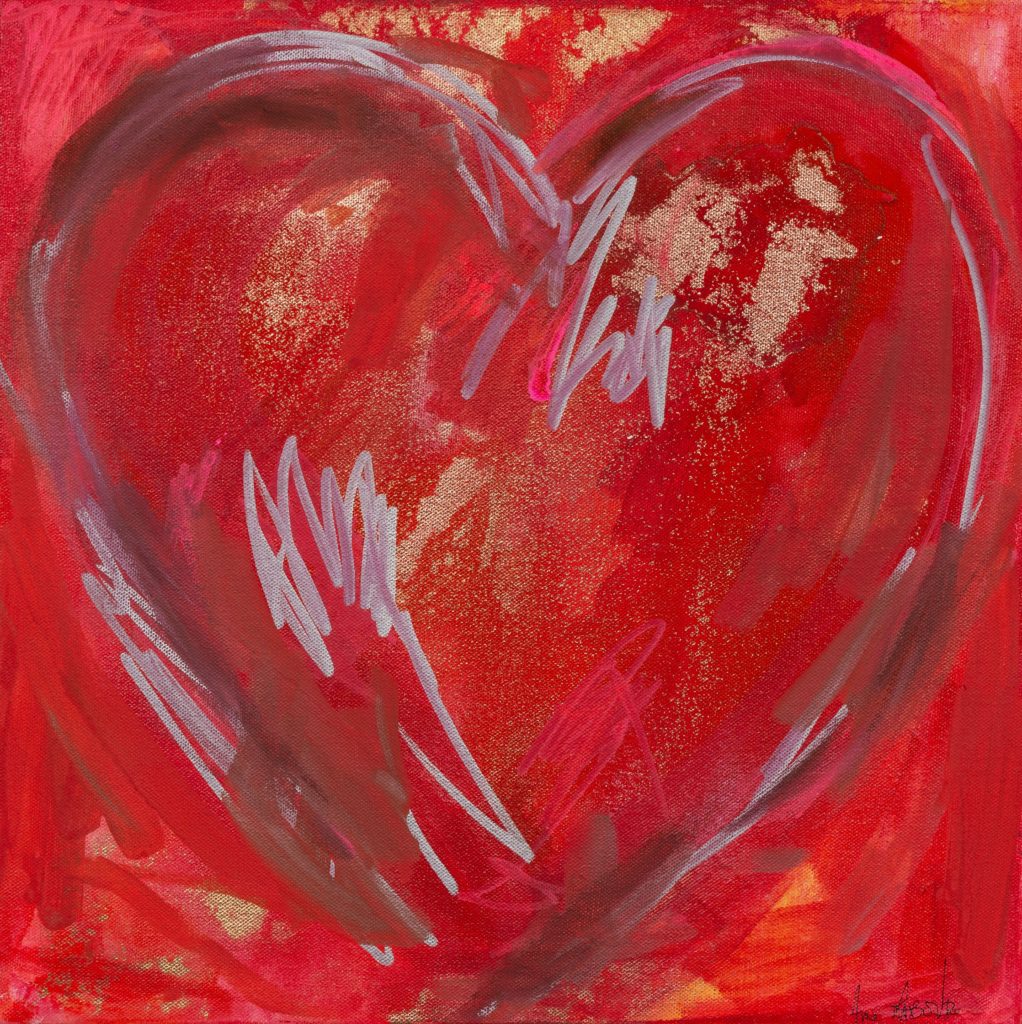 There is no doubt that creating art can be both a fun pastime and a healthy distraction, but did you know that it also has many benefits that positively impact aging? From drawing and photography to music and knitting, staying creative can improve cognitive function, strengthen motor skills, reduce isolation, boost mood, and even help you reconnect with a deeper purpose and meaning. Best of all, the Duluth community is rich with arts & entertainment, including everything from theater, orchestra, classes and art museums to name a few.
In fact, if you're a fan of art museums, you may recognize some artwork featured on this blog by Duluth-born artist, Anne Labovitz. For more than 20 years, Labovitz has made artwork that examines the importance of human connection and its visual embodiment. That's why the mission of senior support led by love instantly resonated with Anne when she agreed to take on the challenge to paint a special heart piece for our organization, Duluth Aging Support. Anne's heart piece not only deepened the visual identity for our organization as a whole, but even inspired the glass heart available for purchase on our Silver Love Shop.
To learn and see more of Anne Labovitz's work, check out the Tweed Museum of Art at the University of Minnesota, or visit our online Resource Directory for other fun and creative opportunities near you.
And if that little voice in your head is saying, "But wait, I'm not an artist…" right about now, just remember that you don't have to call yourself an, "artist" to be creative and enjoy the 5 benefits creativity can have on healthy aging outlined below:
1. Improve cognitive function
According to researchers, participating in creative pursuits helps build connections in the brain to strengthen your cognitive reserve, or brain resilience. In other words, it can help you stay sharp, think differently, and even improve your memory. In fact, some studies show that art forms like painting and music may even help those with Alzheimer's reconnect with long lost memories, as well as help them express emotions when they can no longer use verbal skills to effectively communicate.
2. Strengthen motor skills and coordination
By focusing on a light physical task such as drawing, sculpting, glass blowing or writing, you can strengthen your motor skills and hand-eye coordination that fade as we all age. This not only increases blood flow to help improve dexterity in your hands, wrists, and fingers, but may even help manage arthritis pain. For some creative ideas in the Duluth area, check out some ideas listed below or see even more options on the Arts & Entertainment section of our online Resource Directory:
Glass blowing classes at Lake Superior Art Glass – tap into the artist in you by making beautiful art like wine goblets, necklace pendants, paperweights, ornaments and more by safely manipulating hot glass using traditional glassblowing techniques with the help of guided professionals. To learn more, check out: //lakesuperiorartglass.com/pages/classes
Pottery painting at Pottery Burn Studio – discover your inner painter by learning to paint, stencil, or stamp real ceramic like coffee mugs, plates, bowls, piggy banks and more. Plus, enjoy $3 off per piece on Senior Days every Wednesday and Thursday. To learn more, check out: //thepotteryburnstudio.com
Free adult coloring pages – bring out your fun side to life by coloring in designs of your choice, including but not limited to: beautiful patterns, flowers, and your favorite animals. To learn more and download your free adult color pages, go to: //www.justcolor.net/
3. Reduce loneliness and isolation
Finding an art form that you're passionate about can help reduce isolation, loneliness, and the boredom you may be experiencing. Whether you're participating in art as an observer or as a creator, art also has the power to forge new connections with people and a community that are passionate about similar art as you are or even willing to introduce you to new art forms. Just pick from one of Duluth's most popular exhibits like the Tweed Museum, Duluth Art Institute, or Joseph Nease Gallery and don't forget to check out painting classes at On The Rocks Art Studio. For even more ways to reduce isolation, read our recent blog post on 6 Tips to Reduce Isolation.
4. Boost your mood
Regardless of whether you're creating art or observing it, having a creative outlet not only releases the feel-good hormones called endorphins, but also helps reduce the stress hormone known as cortisol. In other words, creativity boosts your mood and helps you relax. In fact, the very calming nature of feeling your paintbrush move across a canvas can give you a unique opportunity to process anxiety, sadness and even frustration in a different way, allowing you to release some of the negative emotions you may have otherwise held on to. Best of all, the more you create, the more you'll notice how it positively impacts your self-esteem and confidence, only boosting your mood all the more.
5. Rediscover a deeper sense of purpose
Whether you're working towards a goal, want to make a statement or just enjoy creating something beautiful, creativity can play a vital role in helping you rediscover a sense of purpose that you may have lost along the way. And having a sense of purpose can not only help you move ahead with daily activities but truly enjoy your life to the fullest.
So whether art has been a part of your life or you're just picking up a paintbrush, there's no better time to find a creative outlet that's right for you. Not sure where to start? Ask yourself, "what's something I've always wanted to try?" or reach out to us for some ideas on how to tap into your creativity at hello@duluthagingsupport.org. And don't forget to share this post with friends, family or anyone that you think would love to learn about the benefits of creativity on healthy aging.